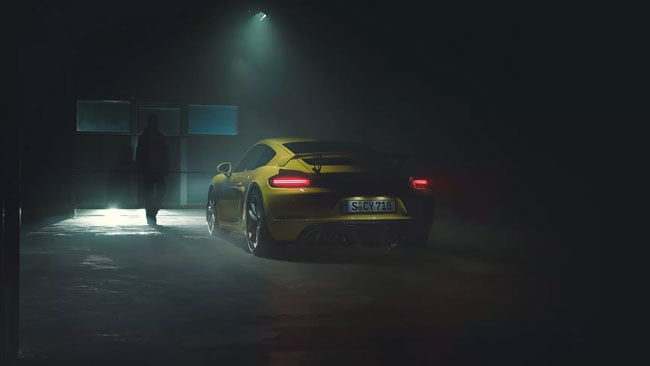 In a few short months from now, the wait will be over. The Porsche Cayman GT4 is already rolling off production lines, but won't be widely available until the spring of 2020. Pushing the limits as to what makes a perfect sports car, this vehicle will have it all. Impressive power, precise handling and style in one neat package. This Porsche is poised to take the automotive world by storm and we have the details at Porsche Cherry Hill.
Engine and Performance Specifications
The Porsche Cayman GT4 will have a naturally aspirated 4.0L boxer 6-cylinder engine, with an output of 414 hp. It will produce a solid 309 lb-ft. of torque. Top speed has been increased to 188 miles per hour and acceleration from zero to sixty miles per hour is an astounding 4.2 seconds.
Additionally, it will also offer manual transmission and a fixed rear wing. Part of the design upgrade for this newest version involves braking performance and response times have been improved for safety. Composite brake discs on the Cayman increase braking capability in slippery or wet conditions. Fuel consumption estimates have not been supplied yet.
Interior Features
The Porsche Cayman GT4 screams performance, inside and out. Style and elegance are integrated and designed for maximum comfort and driving pleasure. The GT4 will offer an Alcantara steering wheel for grip, as well as options of leather seats and stitching. The GT4 offers Porsche Connect, which is a set of smart services and apps to help further connect you and your Porsche. The infotainment center is situated in optimal viewing location, while Porsche Communication Management (PCM) centralizes your audio and communication needs. Navigation is also streamlined through Porsche Connect, if desired.
The Porsche Cayman GT4 is generating a lot of excitement as its release date gets closer. Based on the reports of what it can do on the road, as well as the stylistic and technological innovations inside, it seems that it is going to live up to the hype. Until then, we have everything you need to enjoy a new or used Porsche in Philadelphia. Stop by and visit us today.