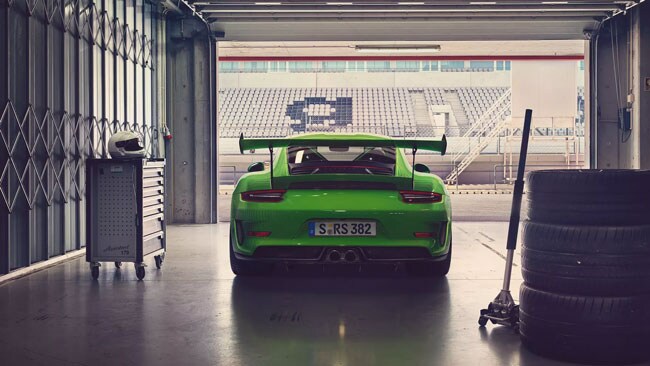 Twenty years ago, the first Porsche 911 GT3 was introduced to the world at the Geneva Motor Show. Designed by Walter Röhrl, Roland Kussmaul and other Porsche developers, the GT3 ushered in a new era of performance. True Porsche aficionados are well aware of the outstanding performance of the GT3. Now, we celebrate it at Porsche Cherry Hill.
20th Anniversary Honors
In addition to the street versions of the Porsche 911 GT3, the racing editions of this car have proven themselves over and over. It has garnered victories at many races in its 20-year history, including the 24 Hours of Spa, the 24 Hours of Daytona, and the 24 Hours Nürburgring. The road and race versions of the GT3 blend together and build off of each other so that all GT3 drivers can experience the thrill of a high-performance machine.
The Birth of the GT3
Prior to the Porsche 911 GT3, the 911 series already had a stellar reputation among enthusiasts, beginning with the Porsche 911 Carrera RS 2.7 of the 1970s. The first GT3 of 1999 came equipped with a water-cooled 3.6-liter six-cylinder boxer engine, packing 265 kW (360 PS). By 1999, it was already gaining a reputation among racers, even before it was unveiled to the rest of the world.
Several design improvements made the Porsche 911 GT3 stand out. The chassis was lowered, brakes uprated and handling was improved. Another unique addition was the fixed rear wing.
Next Generations
Since May of 1999, the generations that followed –every 3 to 4 years - proved to get better each time. Power increased from 280 kW (381 PS) to 305 kW (415 PS) to 320 kW (435 PS). Braking was improved, suspension was redesigned and downforce was vastly increased.
The 2013 GT3 (5th generation) was a standout: engine output increased, transmission enhanced and steering was improved. The best racing time in GT3 history so far was accomplished with this version.
The current version was introduced in 2017. Its power has surpassed all other versions – 4.0L engine unloading 368 kW (500 PS). There were also new options for the Porsche 911 GT3 owner: manual six-speed or dual-clutch transmission and fixed rear wing or an automatic spoiler.
The GT3 is aging well with time.
When you are ready to enjoy a new or pre-owned Porsche for salein Philadelphia, you know you can trust us. Stop by for a test drive today.