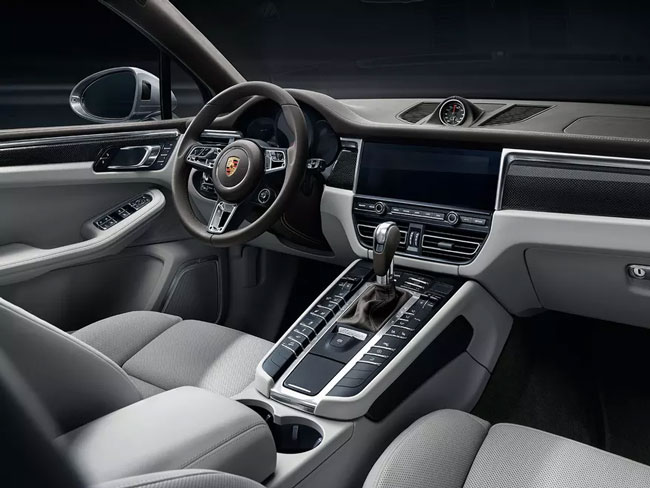 The latest rendition of the Porsche Macan – the 2020 Porsche Macan S – is finally here. Drawing inspiration from the sporty Porsche 911, it is a crossover that perfectly combines the functionality of an SUV with the power, sportiness and smooth lines of a race car. We have your first look at PorscheCherry Hill.
Engine and Exterior Features
The exterior of the 2020 Macan S looks very similar to last year's model as far as trim and design. It does, however draw a lot of influence from the Porsche 911 in its subtle design enhancements. The front fascia, as well as other stylistic nuances, are brought in courtesy of the 911. Headlamps are redesigned and include four point LED lighting patterns. The Macan S will have a powerful V6 engine, with an output of 354 hp and a torque of 354 lb-ft. It will also accelerate from 0-60 mph in a quick 5.1 seconds.
There are other exterior revamps, as well, including adding slats to bumper intakes and wider slats on side outlets. The apron, similar to the style of the 911, is now larger as well. Overall, the Macan S has a wider, sportier appearance as a result. The different options for exterior finishes are: Macan Miami Blue, Mamba Green Metallic, Dolomite Silver Metallic and Crayon.
Interior Features
One enhancement you will notice right away is a large infotainment display, which is four inches larger than any earlier versions in a Porsche. The display, along with functionality on the steering wheel, includes several technological innovations. Traffic Jam Assist, Adaptive Cruise Control, Connect Plus (which enables voice control and real-time traffic updates) are just a few of the optional features the new Macan will boast. Additionally, the whole center stack has been redesigned, so that it has a more elegant, modern look.
The 2020 Macan S looks to be a true competitor in the crossover arena. Luxury, power, comfort, and precision can soon be yours. This model will be available late 2019. Make sure you visit us for your new or pre-owned Porsche Macan for sale in Philadelphia.