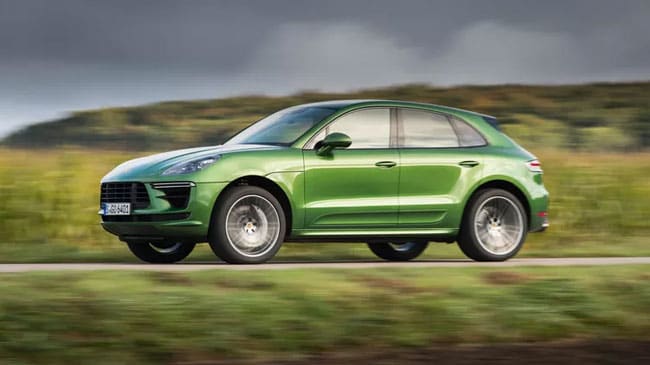 The 2020 Porsche Macan Turbo is going to take the world by storm. After a year of absence, the model is coming back, better than before. It now features more power, additional speed and several thrilling features. You no longer have to wonder what this model offers because we have the details. Let's take a look at what to expect when this model arrives at Porsche Cherry Hill.
2020 Porsche Macan Turbo New Features
For 2020, the Turbo trades in the 3.6-liter twin-turbocharged V6 for the smaller 2.9-liter twin-turbocharged V6. It's the same engine found in the Porsche Cayenne for sale in Cherry Hill, NJ. It can also be found in the Panamera. This smaller engine creates 434 horsepower and takes the vehicle from 0 to 60 mph in just 4.3 seconds.
Standard equipment now includes Porsche Surface Coated Brakes, an adaptive suspension, sports exhaust system, 20-inch wheels, 18-way power sport seats, LED headlights, a Turbo specific front bumper and Bose audio system.
The 2020 Porsche Macan Turbo is set to start at $84,950. Not only is this model worth the wait, but it is worth every penny, according to enthusiasts. This vehicle is focused solely on performance, power and comfort, making for the perfect way to treat yourself.
Ready For Your New Porsche Vehicle?
You deserve the best of the best. That's why you visit our Porsche dealership when you are ready for something new. We have a complete lineup of the high-performance vehicles you want to drive. Whether you are in the mood for extreme power, or you need a luxury SUV for the family, we've got you covered. You can even save more money by buying a used Porsche for sale in Philadelphia. Visit today and take a test drive. We have some limited-time only deals happening right now, just for you.