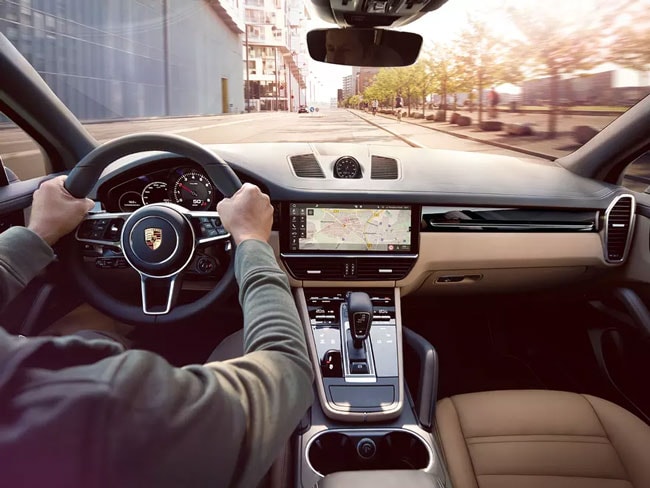 Porsche Connect is a powerful system that helps bind you with your Porsche vehicle. It increases the performance and functionality of connectivity and entertainment. It uses apps and technologically-advanced services to enhance your driving experience. At Porsche Cherry Hill, we offer a selection of vehicles with this technology. Let's get a closer look.
Porsche Connect Before Driving
There are many things you can do with Porsche Connect before you set off down the road. You can program directions, check traffic and check the weather. You can identify attractions, hotels, restaurants and charging stations – all through the system. It's even possible to pinpoint where your Porsche is currently and get directions to the vehicle. Don't forget to check vital levels: your oil, fuel and tire pressure. You can even unlock your car through your phone using Porsche Connect.
Porsche Connect During Driving
Porsche Connect also offers many enhancements to make your actual driving experience more convenient and enjoyable. It comes with Apple CarPlay and Radio Plus. It will deliver on-point traffic information and supply alternate routes to avoid traffic congestion. This system enables a feature called Risk Radar - Traffic Signs. It comes with Porsche Voice Pilot and features Navigation Plus, which updates maps online and offers a panoramic view.
Porsche Connect After Driving
Porsche Connect will assist you in many ways after you have stopped driving. You can lock your car with your smartphone using Porsche Connect. It enables the powerful Porsche Vehicle Tracking System. You have access to location transmission with your car's information to Porsche Assistance, in case your vehicle breaks down. On top of that, you can make emergency calls in case of an accident. Navigation seamlessly moves from your car to your smartphone after exiting your vehicle.
Get Yours Today
Porsche Connect is a valuable system which will bring you much closer to your Porsche. You can find and download the Porsche Connect app on the Apple App Store or Google Play Store. Test drive your favorite models, including the Porsche Cayenne for sale in Philadelphia today.