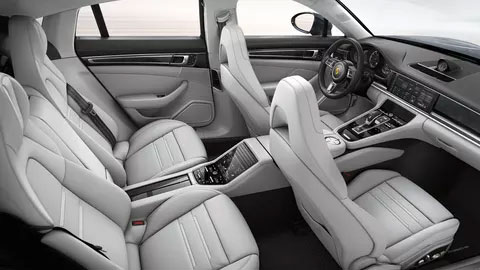 The 2019 Porsche Panamera is well-known for its stylish exterior design and looks. However, the interior of the Panamera is equally impressive. It contains an outstanding blend of luxury, comfort and technology. Check out the inside of this luxury vehicle at Porsche Cherry Hill.
Interior Features of the Panamera
The 2019 Porsche Panamera comes in 3 trims: Panamera 4, Turbo Sport Turismo and Executive. There is a wide range of driving assistance, comfort and entertainment technology in all of these trims.
There is a four-zone automatic climate control complete with a touchscreen display to keep rear-seat passengers comfortable. The rear passengers are going to be quite content in the Panamera, as they also have the Porsche Rear Seat Entertainment system. Also included is an active carbon air filter. The front seats are electronically adjustable.
Porsche Advanced Cockpit
The Porsche Advanced Cockpit is a marvel in design. It has been engineered with the comfort and convenience of the driver in mind. It has ergonomically-designed seats and controls that are easily in reach. The Panamera also comes with Porsche Communication Management (PCM). This is a high-resolution 12-inch touchscreen display that offers many technologically-advanced features for driver and passengers. Additionally, there is an instrument cluster with an analog tachometer and high-resolution displays. The sport steering wheel is designed for performance and comfort, with many functions built-in.
Available Interior Options
The standard 2019 Porsche Panamera is incredible on the inside. There are many options, though, if you want to spruce up the interior of the vehicle. There are leather seat variations available. Two-tone schemes are offered, with options such as fine wood, carbon or aluminum accents.
Adaptive sport seats are available as options. There are also power seats with a massage function. BOSE® Surround Sound or Burmester High-End 3D Surround Sound are choices for audio enhancement.
Experience the Luxury
There are lots of ways to modify and personalize the interior of this vehicle. The 2019 Porsche Panamera is a work of art, inside and out. Visit us to find your new or used Porsche for sale in Philadelphia.